Integral Protection
Advanced German nanotechnology with residual effects

Bacoban is independently tested and proven according to strict clinical standards

Patented and registered worldwide

Bacoban's long-term antibacterial benefits of up to 10 days

Certified under ASTM E 2180 long term efficacity Test protocol

Proven ability to create easy-to-clean surfaces which reduce the cleaning time of protected surfaces by 50%. (Study…)

Bacoban provides long lasting surface disinfection for medical, sensitive areas and high multi-user environments

Water based, biocompatible and eco-friendly
Fighting Cross-infection
Multi-dimensional approach for high quality antipathogen protection

Proven 10-day protection against virus, bacteria and fungi including Covid19, MRSA, E-coli, HIV, Hepatitis B, Ebola and Hepatitis C

Effectiveness: 5 minutes according to DIN EN 1040, DIN EN 1275, DIN EN 1276, DIN EN 1650 & DIN EN 13697

Multi-surface disinfection; effective on floors, walls, furniture, medical equipment's, glass etc

Bacoban is biocompatible and can be applied to metals, ceramics, plastics and textiles

Bacoban reduces odours caused by bacteria
The technology
The number of infections by microorganisms has grown tremendously. Bacoban's technology can provide an added value to your disinfection and cleaning programs.
Bacoban is "The new way of disinfection".
Bacoban® is a highly developed and "intelligent" disinfection-system with controlled release. Conventional disinfectants are effective when applied. They protect for a short period, the disinfection of microorganisms last for the duration of the active period. Contamination will occur after the drying period.
Bacoban® has a long-lasting anti-microbial effect up to 10 days. The real benefit of Bacoban® is that it ensures a significantly higher safety against re-infection between disinfection periods. Bacoban is an effective weapon in the fight against cross-infection.
Bacoban leaves behind a three-dimensional nano-structured layer on the surface. This nano-thin layer stores the biocides and becomes active to kill recolonizing bacteria, virus and fungi. Bacoban protects the treated surface from microbial growth, virtually eliminating cross-contamination between disinfection periods. Bacoban is tested and certified for up to 10 days of antimicrobial protection.
Bacoban's nanocoat layer offers an easy-to-clean surface that can reduce cleaning time by up to 50%. By reducing surface energy soiling, dust and other particles loosely adhere to the surface allowing them to be easily removed.
Bacoban cleaner/disinfectant is ideal for cleaning and disinfection for a broad range of industries.
Bacoban is patented and has certified bio compatibility according to DIN EN ISO 10993-1. Bacoban disinfectant products does not contain Silver, Triclosan, Aldehyde or Phenol.
Cleans and Disinfects in one operation

Kills bacteria in 5 mins (DIN EN 1040, DIN EN 1276)

Kills Fungus in 5 mins (DIN EN 1275)

Kills Viruses in 5 mins (Test reports available) – link to the list of Viruses and COVID

Provides up to 10-day protection against bacteria and viruses and funguses

Easy to apply. Cleaning and Disinfecting in accordance with Directive 93/42/EEC

Complies with ASTM E 2180 standard
Ropimex/Adexano expertise in nanotechnology offers great potential for finding technological answers to key technological questions.
Nanotechnology (or « nanotech ») is manipulation of matter on an atomic, molecular, and supramolecular scale. The earliest, widespread description of nanotechnology referred to the particular technological goal of precisely manipulating atoms and molecules for fabrication of macroscale products, also now referred to as molecular nanotechnology.
Nanotechnology as defined by size is naturally broad, including fields of science as diverse as surface science, organic chemistry, molecular biology, semiconductor physics, energy storage, engineering, microfabrication, and molecular engineering. The associated research and applications are equally diverse, ranging from extensions of conventional device physics to completely new approaches based upon molecular self-assembly, from developing new materials with dimensions on the nanoscale to direct control of matter on the atomic scale.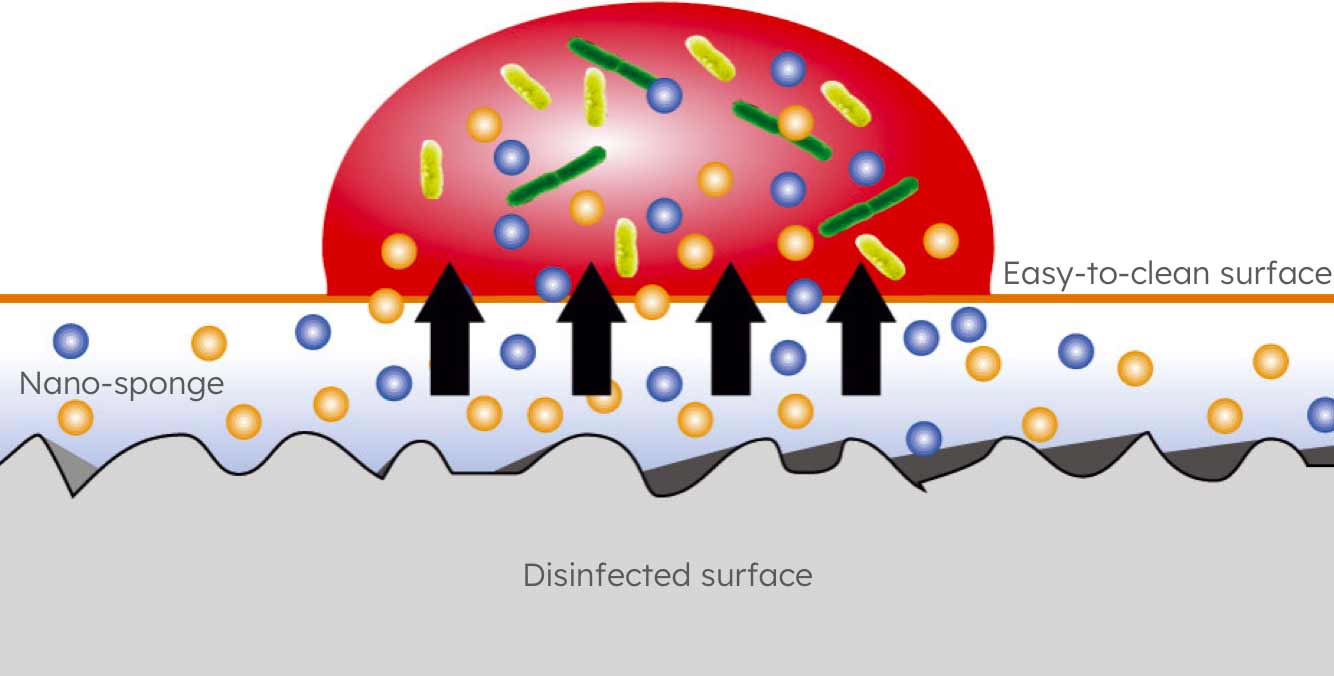 Bacoban has a long time antimicrobial-effect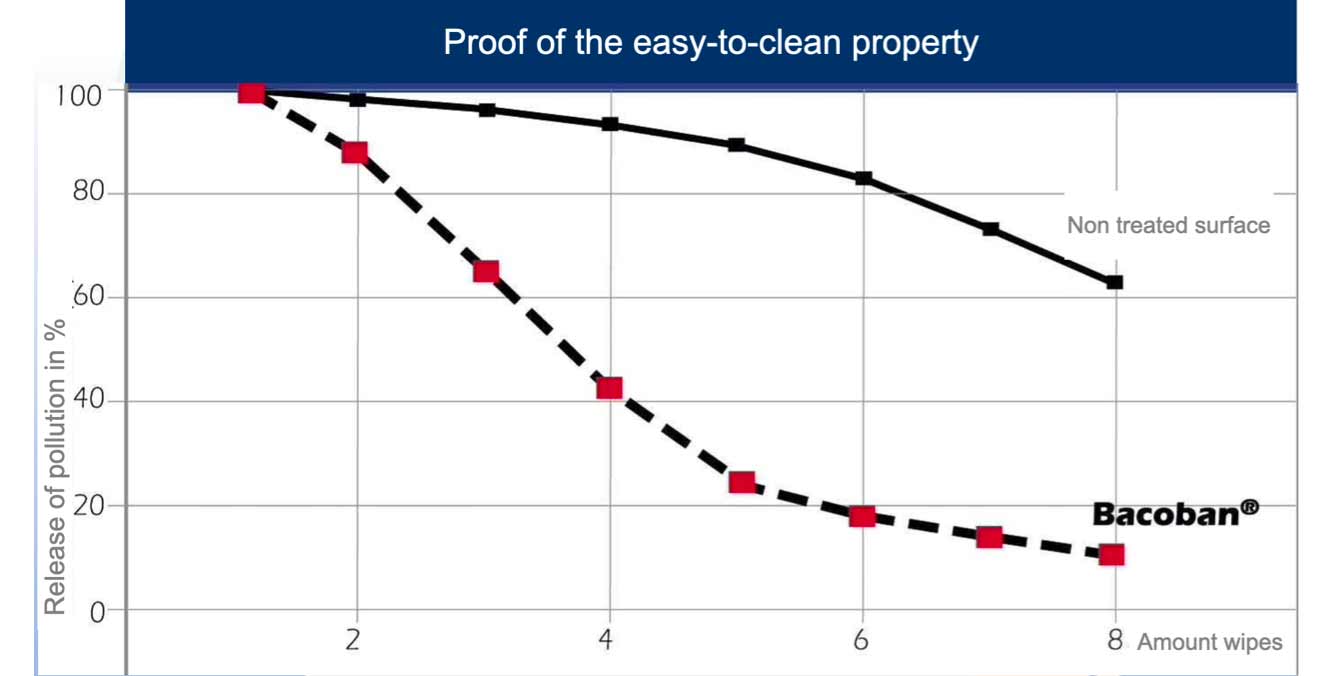 Bacoban reduces cleaning time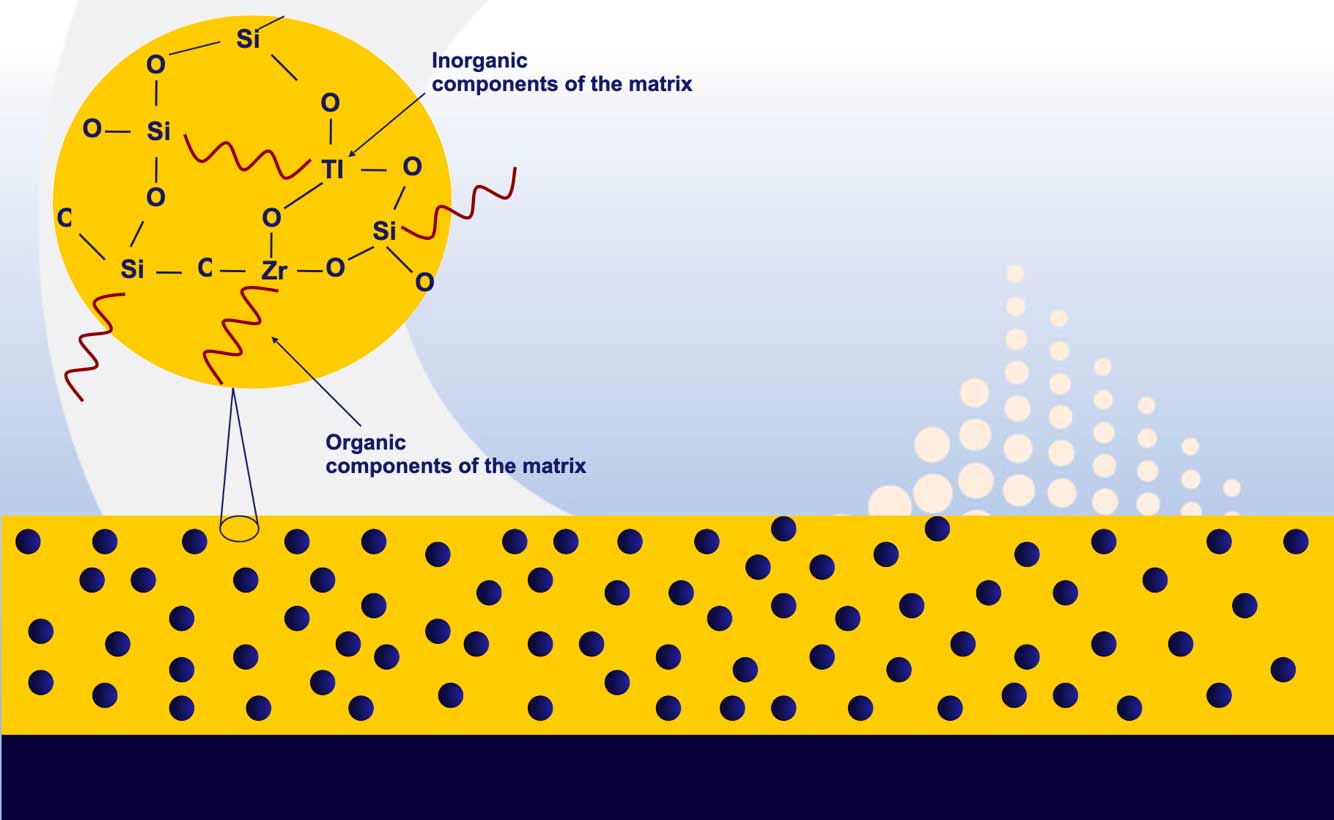 Nanoparticles for further modifications of the matrix materials
Nanotechnology is the engineering of functional systems at the molecular scale. This covers both current work and concepts that are more advanced. In its original sense, nanotechnology refers to the projected ability to construct items from the bottom up, using techniques and tools being developed today to make complete, high performance products. 
To put that scale in another context, the comparative size of a nanometer to a meter is the same as that of a marble to the size of the earth. Or another way of putting it: a nanometer is the amount an average man's beard grows in the time it takes him to raise the razor to his face.
Bacoban and the Nano size BIG disinfection
For today's needs in cleaning and disinfection, nanotechnology opens up opportunities to create multi-dimensional approach that enables better processes and long-lasting solutions for a better and safer environment. 
Our thirst for ever more profits and environmental neglect have helped produce multidrug-resistant bacteria and new viruses. Coupled with poor hygiene, we have the conditions for increased disease and infection and climatic changes accelerate the propagation and spread of germs. To help reduce these risks, germ resistant surfaces and antibacterial coatings strongly help to reduce these risks. 
Ropimex advancements in sol-gel technology have helped produce solutions for advanced cleaning and disinfection products. Bacoban not only reduces costs but provide newer and more secure options for the cleaning and disinfection for a wide range of industries.
Bacoban Africa & Middle East division
Bacoban new generation surface disinfectant is listed by Association for Applied Hygiene (VAH) and provides expert application for areas that require long lasting effective hygiene.
Bacoban's advanced nanotech formula is an ideal partner for a whole range of cleaning and disinfectant procedures as well as being effective in various business sectors.
BoeMedical , Is in charge for the Marketing of Bacoban for Africa, Gulf countries & the Middle east. Do not hesitate to contact us, our team will be delighted to assist you.
Contact us
Postal & Showroom
7 rue de Clagny
78000 Versailles
France
Sales department
+33 (0)9 86 17 82 35
info@boemedical.com